As we think of the stranded scientists, tourists and crew on the MV Akademik Shokalskiy, trapped in Antarctic ice since Christmas Eve and hope for their safe rescue and return, I discovered this other stranded-in-Antarctic story by David Mantripp. David recently got in touch with The Antarctic Book of Cooking and Cleaning – we're delighted he ordered a book to Switzerland.
David's shared his story of Christmas and New Years in Damoy, Antarctica: an unexpected stayover in 1987.
David wrote, "I've been following your blog for a while, and as someone who taught himself to bake bread in a tin box over a primus stove while stranded for 6 weeks in a hut on a tiny island half way down the Antarctic Peninsula, I really think I NEED your book!"
We're linking to David's photoblogography snowhenge.net and his story of his December stay on Doumer Island, an island reportedly first seen by the Belgian Antarctic Expedition, 1897–99, under Adrien de Gerlache. King George Island where our book is based, isn't far, as the crow flies (in Antarctica).
A few excerpts:
"I first arrived there on December 5th, 1987, with about 20 British Antarctic Survey colleagues, expecting to be there a few days, before being flown further south to Rothera. As it turned out, things didn't work out quite as planned, resulting in myself, Clem Collins and Alan Osbourne not only being the 2nd ever party to spend Christmas at Damoy, but smashing all records by being the first to spend New Year there.
Digging out my notes on my enforced holiday at Damoy confirms that although it is a beautiful spot, I was increasingly frustrated, and bored, by being stuck there. It would probably be something like paradise now, with a generator and a digital camera, but back then I wasn't really that in to photography, and I was supposed to be a further 15 degrees south. And we were running very low on paraffin, meaning that in the last couple of weeks we could not use the heater. And Alan, Clem and myself were not the most compatible trio you could pick. The weather was usually foul, and when it wasn't, it was either foul at Rothera, or the aircraft were busy somewhere else. With the skiway snow warming up and deteriorating, It looked increasingly like we were going to have to be evacuated by ship. Finally, we were rescued by a Twin Otter piloted by my field party pilot Mike Collins, with the new BAS director David Drewery along for the ride …
Back to the present day, it is remarkable how well preserved the hut is. Even to the extent of tins of the despised "Nespray" still being on the shelf. Actually there's probably a hidden dump of Nespray tins outside somewhere. The various "Use Before Feb 1968" ingredients we used to cobble together some form of Christmas baking are still around too.
I asked David if he would recall for us his breadbaking experience that Christmas and thoughts on food, sharing and survival. We hope to hear more from him!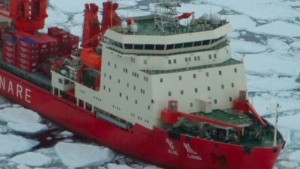 Ship stuck in Antarctica awaits rescue, image CNN
And we hope for the safe return for another group stuck in Antarctica at Christmas: the 74 people awaiting now to be evacuated or freed by the Aurora Australis as other rescue ships couldn't get close enough.
According to CNN today:
The rescue icebreakers were battling the planet's coldest environment while trying to reach the Akademik Shokalskiy ship, whose 74 researchers, crew and tourists remained in good condition despite being at a frozen standstill since Monday.
The ship is carrying scientists and passengers led by expedition leader Chris Tunrey, an Australian professor of climate change.
"The vessel is fine, it's safe and everyone on board is very well," Turney said. "Morale is really high."
The ship got stuck in the ice 15 days after setting out on the second leg of its research trip.
According to Turney, a professor at the University of New South Wales, the ship was surrounded by ice up to nearly 10 feet (3 meters) thick. It was about 100 nautical miles east of the French base Dumont D'Urville, about 1,500 nautical miles south of Hobart, Tasmania.
On Christmas morning, the ship sent a satellite distress signal after conditions failed to clear.